Portfolio - Tods Murray v Arakin
The Brief
What the client asked us for...
We were aproached by a lovely lady called Carol McNamara who was interested in creating a website that would allow her to document a family court case (Tods Murray v Arakin) that has been ongoing since 1986.
It was important that she could update the site herself as the court case is still on going and the site will need updated regularly.
She wanted something that was easy to read and professional looking as a large portion of the audience for the site would be from the legal profession.
The Design
What we came up with...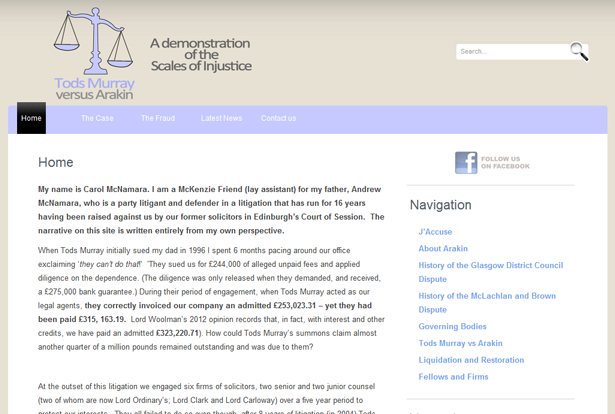 We decided that it would be best to keep the colours neurtral, so went with pastel blues and purples. As readability was important a simple grey text on white background with bold for highlighting important sections.
The tipped scales are symbolic of the impartiality that the McNamara family feel they are facing in the court system.
The Feedback
What the client had to say...

"I love the site boys, thanks for your hard work!"
Carol McNamara - Tods Murray v Arakin
Other Work
Have a look at some of our other sites.